Online Resources
General Information and Resources for Online Learning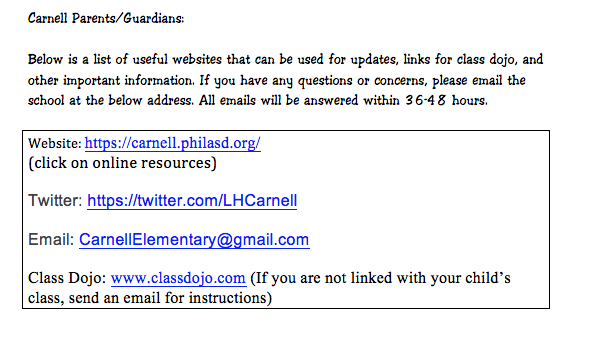 Internet Access Options for Families
Steps to Access Google Classroom HERE
Using Google Classroom with an HERE
Chromebook Loaner Program Information HERE
In addition to providing Chromebooks, the District continues to work with the City to create a comprehensive list of low-cost Internet options or access to free WiFi mobile hotspots across the City. The list can be found HERE and will be updated as information evolves.
For those families who reside in areas of the city where Xfinity WiFi is available, Comcast is making Xfinity WiFi free for everyone – including non-Xfinity Internet subscribers. For a map of Xfinity WiFi hotspots, visit www.xfinity.com/wifi.
The City of Philadelphia's Office of Innovation and Technology has made available a similar listing of options HERE.
SDP Office of Technology Services click HERE.
Internet Provider Information:
Through April 30th, Comcast is offering two free months of Comcast Internet Essentials to new customers with limited means. See their website for eligibility requirements and more details.
Verizon will now offer low-cost Internet access through its Lifeline program to individuals who qualify. Limitations apply. For program details, visit their Lifeline webpage.
AT&T will waive wireless plan overage charges for data, voice or text.
T-Mobile Connect is a new program offering a $15 per month plan for unlimited talk and text plus 2GB of high-speed smartphone data.
Sprint will provide customers with an additional 20GB of mobile Hotspot data per month for 60 days (a minimum of two bill cycles) at no extra cost.
WiFi access at all School District schools will remain active through the extended closure. To connect, use:
Network: PhilaSD WiFi
Security Key: philadelphia  (all lowercase)
WiFi access at all Free Library of Philadelphia locations will remain active while the library branches are closed. An active library card number and PIN are needed to access the location's WiFi.